Put newsletter form here.
Visit our studio
1219C Jordan Lane, Huntsville, AL
Teachers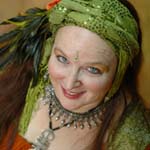 Lisa Wylie
Dance should be fun, stress-reducing, challenging, and as pain free as possible. Dance exercises your mind as well as your body. My goal is to share the joy I receive from expressing myself through music. Belly dance is a dance form for all, from classic folk dance beginnings to tribal fusion styles.
My classical ballet background directs me to respect the origins and history of the dance style. My experience with UCSC Theater Arts/Dance Emphasis inspires me to explore and entertain through dance, but above all, it should be fun.
Inspired by my younger friends at Pennsic and Renaissance Faires, I returned to dancing, at the ripe age of 45. Ugh! What was I thinking? I found belly dancing to be fun, challenging, and community driven. When I was left with a belly dance studio with no teachers - a result of sudden transfer of my friends, teachers, and troupe mates - I began to share my own knowledge of this dance. I found I had a lot to learn, and I still do. Teaching has been challenging and one of the most rewarding journeys of my life. I truly enjoy it.
I focus on the basics and the foundations for good belly dance technique from the inside out. I find it far more important to learn where the movement originates from in the body rather than just making pretty pictures. I hope my students leave class feeling good about themselves and their accomplishments.
This California beach-loving free spirit and my retired military native Alabamian husband, Ed, retired to the south in 1990. I also practice my skills as a wire jeweler and sell on-line or at renaissance faires. Our home is way out in the country and we love it. Ed keeps very busy with his famous dried apple chips and curry dill pickles. His church work and yard work also keeps him out of my hair. Ed has 2 grown daughters who live in California and Virginia. His 2 grandchildren also live in California. Ed is very supportive of my unique endeavors, and if you do meet the elusive Ed at an event or pool party, then you are truly one of the lucky ones.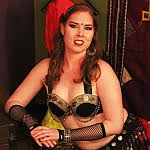 Lea Nichols
Lea took her first bellydance class in 2002, and it has been a major part of her life ever since. She started with American Cabaret style and soon branched out into Tribal Fusion, ATS (American Tribal Style), and Folkloric.
Lea considers herself a lifelong student of dance; taking advantage of every opportunity she can to learn more about this art form from a technical, historical, and cultural perspective. To that end, she has participated in intensives with Mira Betz, Artemis Mourat, and Amel Tafsout. She has also taken classes from an array of amazing local and international dancers, including Morocco, Donna Mejia, Olivia Kissel, Maria Hamer, Amy Sigil, Petite Jamilla, and Zhaleh Fereshteh. In June of 2015, she received her certification in Myra Krien's SEEDs Teacher Training program.
Lea strives to make her classes challenging and fun. She has had the opportunity to study with so many incredible teachers over the years and loves sharing what she has learned from them, as well as creating her own combos and drills.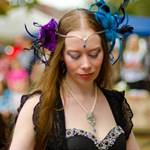 Jennifer Sheely
Jennifer became involved with the studio in January of 2009. She was drawn in by an open house event and quickly fell in love with both the dance form and the environment. She immersed herself in classes and workshops. She became a part of the student troupe after six months, and joined the performance group a couple of years later. She began teaching beginner classes at the studio in 2012 and went on to teach an ongoing strength and flexibility class for belly dancers. In June of 2015 she was certified in Myra Krien's SEEDs (Self-esteem, Empowerment and Education through Dance) program.
Jennifer hopes to share the joy and beauty of this wonderful art form in a safe and supportive environment and loves teaching students of all ages.
Sallye Elliot
Sallye Elliott was captivated by bellydance as a college student in Atlanta, GA and began her studies with Julena of Dancers of the Harem in Marietta. After graduation, marriage moved her to Huntsville and the Beledi Club, where she took lessons with Bachiva, and benefited from hours of choreography created by Club members as they created their biannual shows. An active participant in the Southeastern workshop circuit, Sallye has learned from the best: Ibrahim Farrah, Cassandra, Morocco, Aretmis Mourat, Leila Gamal, Suhaila Salimpour, Dahlena, Mahmoud Reda, and many others. Her studies of Folkloric and Classical Egyptian technique has been amended in recent years by study of Tribal Fusion and ATS. She is currently pursuing certification in Jamila Salimpour's dance format, and plays woodwinds with Lumani.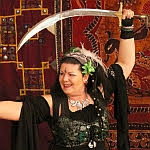 Kelley Blevins
Being an introvert, teaching was not the first option to come to mind. However, after discovering her affinity for dancing /performing with the sword, in the fall of 2014 Lisa was finally able to gently persuade her to teach a class.
Kelley has had a long time fascination with ancient history and its weaponry, so naturally she was excited by the chance to actually dance with a sword. She dove in headfirst and found her greatest influences to be the likes of Isadora Bushkovski, Belladonna, and the incomprable Nicole Hannah.
Drawing from her love of all types of music, she tries to bring styles ranging from Cabaret and Tribal through Jazz and Hip hop. Her philosophy can be definitively described as Fusion. She strives to be as informative as possible while remaining easily approachable. She promises to keep learning relaxed and fun. Confession... She really likes the numerous other props veils, fans, baskets, and canes that we as dancers get to play with. She also loves the challenge of creating new and original choreography. Her main goal is not necessarily for her students to love the sword like she does, but to be able to appreciate the fine art and empowerment of comfortably dancing with one.
Sarah Rose Schrider
Sarah Rose Shrider became enfatuated with Belly Dance at age fourteen. She has gained invaluable experience over the years, by not only working diligently to improve herself, but also taking classes, workshops, and otherwise studying from great minds in dance.
While Sarah aims to be a Jack-of-all-trades and practice a whole array dance, prop usage, and style sometimes life pushes you towards a certain direction. Three main categories have emerged as her favorite to dance and share: Turkish Style dance, fan/ fanveil props, and ribbon dances.
Sarah Rose Loves to teach and share her knowledge. She is present with anything she can do to help raise up young dancers and help them build good habits that will keep them dancing for their whole lives. She is very passionate about making dance "safe". That is, never damaging our bodies or pushing yourself too hard. There is always a safe, painfree way to do a move!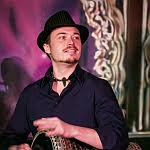 Thomas Groover
Bio coming soon.